Simple Sweat is one of the recorded classes that you can do at home (for those on The Everything). I will also do one from time to time as a Bonus Class.

​I really, really love this style of class. Simple Sweat is a full class of the 'huff and puff' mentioned above (approximately 30 mins - some longer, some shorter). It's called 'simple' for a reason: high repetition moves; simple moves; rests here and there. Every move has easier and harder options. Everything has a low impact version (no jumping) and a high impact version (jumping!) I've got you.
Powered by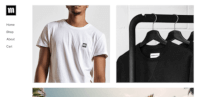 Create your own unique website with customizable templates.